KTP
---
Potassium Titanyl Phosphate (KTiOPO4 or KTP) is an excellent nonlinear optical material suitable for use in many optical systems. It has high nonlinear coefficient and stable physical property. Its most popular application is as a frequency doubler utilizing the 1064nm output of a Nd:YAG laser and to generate 532nm laser. KTP's properties also make it superior for electro-optic modulation, optical parametric generation. Keywords: KTP Crystal, Nonlinear Crystal, NLO Crystal
---
Potassium Titanyl Phosphate (KTiOPO4 or KTP) is an excellent nonlinear optical material suitable for use in many optical systems. It has high nonlinear coefficient and stable physical property. Its most popular application is as a frequency doubler utilizing the 1064nm output of a Nd:YAG laser and to generate 532nm laser. KTP's properties also make it superior for electro-optic modulation, optical parametric generation.
KTP is a positive biaxial crystal, with the principal axes X, Y, and Z (nz>ny>nx) parallel to the crystallographic axes a, b, and c, respectively.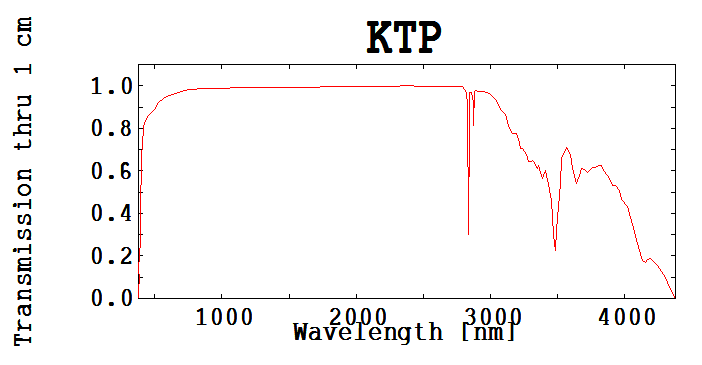 ● Large nonlinear coefficient
● Wide angular bandwidth and small walk off angle
● Broad temperature and spectral bandwidth
● Large electro-optical coefficient
● Nonhygroscopic, chemically and mechanically stable
Physical Properties:
| | |
| --- | --- |
| Crystal structure | Orthorhombic, space group Pna21,point group mm2 |
| Cell parameters | a=6.404Å, b=10.616Å, c=12.814Å, Z=8 |
| Melting point | Around 1172℃ |
| Mohs hardness | 5 |
| Density | 3.01 g/cm3 |
| Color | colorless |
| Hygroscopic susceptibility | no |
| Thermal conductivity | 0.13 W/(cm*K-1) |
| Thermo-optic Coefficient | dnx/dT=1.1x10-5/°C, dny/dT=1.3x10-5/°C, dnz/dT=1.6x10-5/°C |
| Absorption coefficient | <0.1%/cm @ 1064nm, <1%/cm @ 532nm |
Optical Properties:
Transmitting range:

350 nm - 4500 nm

SHG Phase Matchable Range

497~1800nm (Type II)

Refractive indices:

1064nm

532nm

nx ny nz

1.7377 1.7453 1.8297

1.7780 1.7886 1.8887

Sellmeier equations: (λ in μm)

nx2=3.0065+0.03901/(λ2-0.04251)-0.01327λ2
ny2=3.0333+0.04154/(λ2-0.04547)-0.01408λ2
nz2=3.3134+0.05694/(λ2-0.05658)-0.01682λ2

Nonlinear optical coefficients:

d31=6.5pm/v, d32=5pm/v, d33=13.7pm/v, d24=7.6pm/v, d15=6.1pm/v

Effective nonlinearity expressions

deff(II)≈(d24 - d15)sin2Φsin2θ - (d15sin2Φ + d24cos2Φ)sinθ

For type II SHG of a Nd:YAG Laser at 1064nm:

Phase matching angle: θ=90°, φ=23.5°

Temperature Acceptance: 24°C·cm

Spectral Acceptance: 0.56nm·cm

Angular Acceptance: 14.2mrad·cm (φ);55.3mrad·cm (θ)

Electro-optic coefficients:

Low frequency (pm/V) High frequency (pm/V)

r13

9.5

8.8

r23

15.7

13.8

r33

36.3

35.0

r51

7.3

6.9

r42

9.3

8.8

Dielectric constant:

εeff=13
APPLICATION:
Due to the unique combination of its properties – high nonlinear coefficient, high damage threshold, non-hygroscopic, KTP can be used in both commercial and military lasers including medical and laboratory systems, range finders, designators and systems for use in semiconductor industry.
Its application includes:
● Optical Parametric Generation (OPG, OPA, OPO)
● Electro-Optical modulations
● Optical waveguide for integrated NLO and E-O devices
Optical Parametric Generation (OPG, OPA, OPO)
As an efficient OPO crystal pumped by the fundamental and second harmonics of a Nd:YAG or Nd:YLF laser, KTP plays an important role in parametric sources for tunable output from visible (0.6 um) to mid-IR (4.5 um). In NCPM KTP OPO pumped by 1064 nm, the signal output is around eye safe wavelength, finding applications in eye-safe devices. KTP's OPO pumped by a 1064 nm Nd-laser has generated above 66% conversion efficiency for conversion from 1064 to 2120 nm. The OPO/OPA in XY and YZ is seldom employed because of their low effective nonlinear coefficients and other limitation.
Below figure shows the non-critical phase-matched (NCPM) X-cut KTP OPO/OPA. For pumping wavelength range from 0.7μm to 1 μm, the output can cover from 1.04μm to 1.45μm(signal) and from 2.15μm to 3.2μm(idler). More than 45% conversion efficiency was obtained with narrow output bandwidth and good beam quality.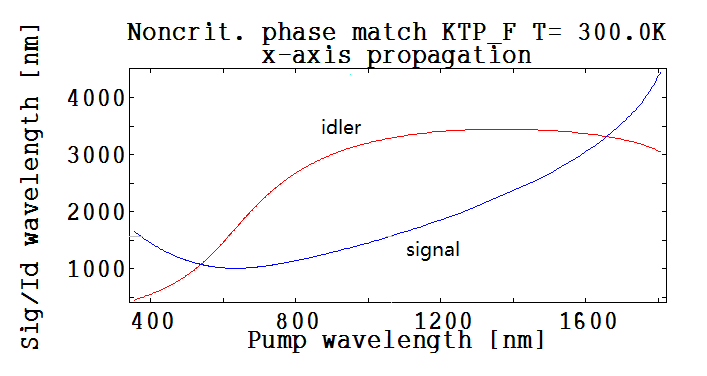 Electro-Optical Modulation
KTP also has promising E-O and dielectric properties that are comparable to LiNbO3. These properties make KTP extremely useful in various E-O devices.
Oven for Heating KTP crystals
Increasing the temperature of KTP crystal can enhance the damage threshold of KTP crystal. Therefore, for high power or high power density SHG of Nd lasers, heating KTP to a certain temperature (e.g. 80-100 deg) is recommended. CRYSTECH provides precision oven with temperature controller for heating KTP. A full assembly including KTP crystal, oven and temperature controller is also available.
After years of development, CRYSTECH has become the largest KTP manufacturer in the world.
● Large crystal size up to 20x20x40mm3 and maximum length of 60mm
● Quick delivery(3 weeks for polished only, 4 weeks for coated)
● Reasonable price and quantity discount
● AR-coating, re-polishing service.
Dimension Tolerance

W(+/-0.1)*H(+/-0.1)*L(+0.5/-0.1)mm

Angle Tolerance

+/-0.25°

Perpendicularity

≤10′

Scratch/Dig

20/10

Chamfer

≤0.2mmx45°

Parallelism

≤10″

Chips

≤0.1mm

Flatness

λ/10@633nm

Clear Aperture

≥90%

Wavefront distortion

λ/8@633nm

Coatings

C1---AR@1064(R<0.2%)&532(R<0.5%)

C2---HR@1064(R>99.8%)&HT@532(T>95%)

C3---AR@1064(R<0.2%)&1570(R<0.5%)

C4---HR@1570(R>99.8%)&HT@1064(T>99.5%)

C5---HR@1064(R>99.8%)&PR@1570(R=50,60,70%+/-2%)

Damage Threshold

500MW/cm² (1064nm, 10ns, 10Hz)
| | | | |
| --- | --- | --- | --- |
| P/N | Type | Size(mm) | Coating |
| KTP.060603.C001 | SHG | 6x6x3 | AR1064&532 |
| KTP.060605.C001 | SHG | 6x6x5 | AR1064&532 |
| KTP.070705.C001 | SHG | 7x7x5 | AR1064&532 |
| KTP.080805.C005 | SHG | 8x8x5 | AR1064&532 |
| KTP.090905.C001 | SHG | 9x9x5 | AR1064&532 |
| KTP.151506.C003 | SHG | 15x15x6 | AR1064&532 |
| KTP.040420.C004 | OPO | 4x4x20 | AR1570&1064 |
| KTP.060620.C006 | OPO | 6x6x20 | AR1570&1064 |
| KTP.070720.C004 | OPO | 7x7x20 | AR1570&1064 |
| KTP.040416.C008 | OPO | 4x4x16 | HR1570,HT1064|HR1064,PR1570 |
| KTP.050520.C009 | OPO | 5x5x20 | HR1570,HT1064|HR1064,PR1570 |
potassium titanyl phosphate

Established in 2001 and located in the city of Qingdao, China. Crystech Inc. is a global supplier of Alexandrite, KTP, RTP and E-O Q-Switch, YAG crystals, Laser Optics and more.